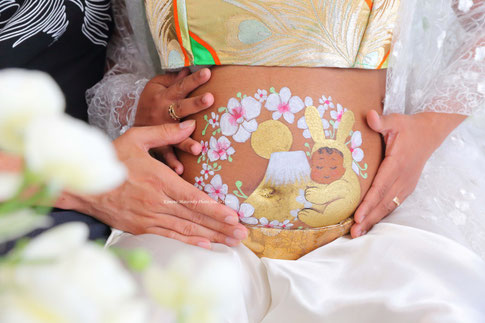 In Japan, every each year has the symbol of animals. There are 12 animals and it turns back every 12 years.
This year is "rabbit". Rabbit jumps up and look around if he's in safe environment and everything is ok. He does it from time to time when he moves forward.
So it suggests that it's a good year for you to start something new. Something to prepare for your dream. But do not jump up without caution. You need to be careful and modest. Make sure your step is safe at each time. 
Thus, every year has its connotation and lesson for you along with symbolic animals.
Ai Matsusaka's small photo studio offers you maternity photo sessions and newborn photo sessions as well, both with the Kimono outfits beautifully tailored for pregnant and newborn bodies.
Home visit photo session is also possible. All photographers are experienced for more than 8 years as professionals, and also moms themselves being good at taking care of pregnant ladies and newborn babies.
 Please contact to the website from the bio link.
#bellypainting #maternityphotoshoot #maternityphotographer #maternityphotostudio #tokyo #kanagawa #yokohama #yoksuka #saitama #chiba #homevisit #athomephotoshooting #Japan #wafu #wa 
#Kimonomaternity #Furisodematernity #Furisode #maternity #pregnancy #pregnantphoto #pregnancyphotograohy #maternityphotography #maternity #soontobemom #premom #pregnantinjapan #maternityfamilyphoto