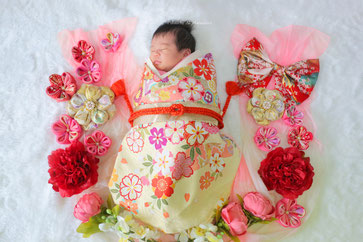 Kimono swaddle for newborn photo shoot.
This cute small Sakura is taken from the ceremony kimono for young lady.
I have been looking for this kind of "Kawaii" design because I thought it would definitely look good on baby's small and delicate face... and now I can see I made a right choice!
Saukra, BTW, is considered as a symbol of girl's happiness in general since it is often written as something to represent young women's beauty in Japanese traditional poetry. The patterns  (designs) used in Kimono such as Sakura, is called Wagara, and each of them has the specific meaning to symbolize Japanese people's thinking about life and beauty.
#newbornphotography #newbornphoto #newbornkimono #kimono #kimonoswaddle #kanagawa #yokohama #yoksuka #saitama #chiba #homevisit #athomephotoshooting #Japan #wafu #wa
 #babyphotoshoot #newbornphotoshoot #newbornphotographer #newmom #babyphotographer #babyphoto