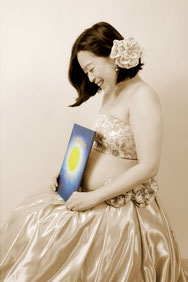 Have you already got picture books for baby?
This couple brought their favorite picture book for baby as a first gift to her in the maternity photo session.
It's quite a good idea to take picture with it when preparing to be parents since they can look back their feeling of how they were looking forward to seeing their first baby. It was a beautiful, heart warming picture book and I could see how they love their baby.
#bellypainting #maternityphotoshoot #maternityphotographer #maternityphotostudio #tokyo #kanagawa #yokohama #yoksuka #saitama #chiba #homevisit #athomephotoshooting #Japan #wafu #wa
 #Kimonomaternity #Furisodematernity #Furisode #maternity #pregnancy #pregnantphoto #pregnancyphotograohy #maternityphotography #maternity #soontobemom #premom