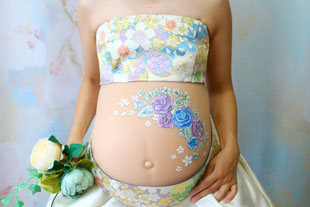 Make a pleasant memory with Ai's matrenity photo shoot in Furisode Kimono maternity dress! This dress is made of Kimono fabric of Furisode, the special Kimono for ceremonies.
Even Japanese women / girls have few chance to wear it such as cerebration of 18 years old and wedding. But I think, what a waste of culture!
"Let's cerebrate WOMAN IN PREGNANCY because they are warriors to overcome all the burden and pain to create new lives which only women can achieve. "
That's my philosophy, and that's why I use Furisode Kimono for maternity photo shoot to make maternity photo shoot a big day for cerebration of soon-to-be-moms.
Ai's photo session is basically done in client's house or Ai's studio in Yokohama. Home visit photo session requires NO EXTRA FEE  except transportation. And Ai will bring all the costumes and equipment plus background so that you can enjoy the photo session in same quality as in the studio.
#bellypainting #maternityphotoshoot #maternityphotographer #maternityphotostudio #tokyo #kanagawa #yokohama #yoksuka #saitama #chiba #homevisit #athomephotoshooting #Japan #wafu #wa
 #Kimonomaternity #Furisodematernity #Furisode #maternity #pregnancy #pregnantphoto #pregnancyphotograohy #maternityphotography #maternity #soontobemom #premom