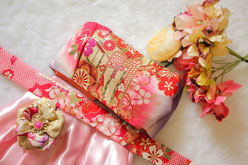 I have been working for long time to make Kimono bra for maternity photo shoot.
Now I think I have more than 40 designs! All made by myself, made of beautiful Kimono fabrics.
Sometimes it's taken from Yuzen Furisode, which is famous as fabric for wedding. Sometimes it's aken from Obi, the golden and silvery thick fabric for Kimono belt.
The Kimono always have some symbols and meanings on each design.
I always love to think about it when I make new maternity costume. This new design on the photo actually has a "car" which was used for carrying princess and their treasures among Heian and Edo period. This design represents an eternal wealth of married woman and her richness in mind. What a beautiful meaning! Japanese mother always give her daughter a beautiful Kimono like this with the wish printed in the design.
#bellypainting #maternityphotoshoot #maternityphotographer #maternityphotostudio #tokyo #kanagawa #yokohama #yoksuka #saitama #chiba #homevisit #athomephotoshooting #Japan #wafu #wa
 #Kimonomaternity #Furisodematernity #Furisode #maternity #pregnancy #pregnantphoto #pregnancyphotograohy #maternityphotography #maternity #soontobemom #premom