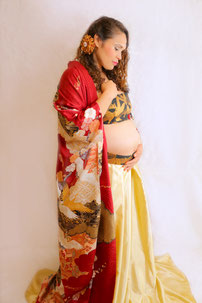 I had a maternity photo session in client's house yesterday.
As she asked me to wear Kimono gown, I luckily had a perfect one for her Kimono bra choice!
Red, gold, black and white crane is the very known design for traditional Kimono.
My love for Kimono - the reason I use especially Furisode for maternity photo shooting, is simple.
Every woman who chose to be a mother is brave, strong, beautiful and she is worth being celebrated!
Furisode is a special Kimono with long sleeve and gorgeous patterns which only 20 years girl are allowed to wear to be celebrated. In Japanese culture, grown up woman's beauty is more like modesty, so they are not supposed to be too gorgeous. But I say "what a waste of culture!"
I want to celebrate and reward women in pregnancy because they are making miracle, and they are amazing.
That's the reason I use Furisode for my maternity photo service.
#bellypainting #maternityphotoshoot #maternityphotographer #maternityphotostudio #tokyo #kanagawa #yokohama #yoksuka #saitama #chiba #homevisit #athomephotoshooting #Japan #wafu #wa
 #Kimonomaternity #Furisodematernity #Furisode #maternity #pregnancy #pregnantphoto #pregnancyphotograohy #maternityphotography #maternity #soontobemom #premom