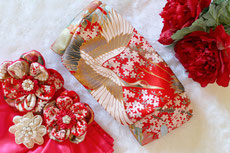 People often ask me which one is the most popular among my maternity kimono dress collection.
To say the truth, it is different between Japanese customers and non-Japanese customers.
Non-Japanese customers like vivid, gorgeous and traditional design such as red, gold, crane and Sakura. These designs are often used for Japanese traditional wedding (bride). My dress is made of this exact same fabric.
Perhaps only small number of foreigners have experience of wear this bride dress, so it is rare opportunity to wear dress with same fabric in maternity photo.
#bellypainting #maternityphotoshoot #maternityphotographer #maternityphotostudio #tokyo #kanagawa #yokohama #yoksuka #saitama #chiba #homevisit #athomephotoshooting #Japan #wafu #wa
 #Kimonomaternity #Furisodematernity #Furisode #maternity #pregnancy #pregnantphoto #pregnancyphotograohy #maternityphotography #maternity #soontobemom #premom